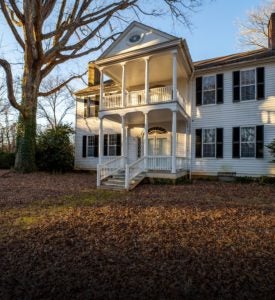 Join us as we add to the storied history of The Middleton House at Chatham Farm in Winston-Salem. The newest chapter in the almost 200-year-old tale of this grand home is about to begin, and Wilson Covington Construction is excited to get the project rolling.

Middleton House was initially constructed in 1829 on the banks of the Savannah River in South Carolina. To put this into historical perspective, Andrew Jackson was sworn in as the seventh President of the United States the year this house was built.

Martha Thurmond Chatham discovered the home in 1930 on an antique-finding trip, and heard that the owner planned to demolish the house. So she purchased the house and commissioned noted Winston-Salem architect, William Roy Wallace, to disassemble the building, transport it back to Chatham Farm, and reconstruct it on the site it now occupies. Wallace also designed the detached garage and carriage house that sits next to the main building.

The home then passed through the family for a number of generations, finally settling with R. Philip Hanes, who occupied the home until his death in 2011.
The Middleton House was bequeathed to Wake Forest University in 1992, and the school retained ownership until just recently.

The new owners plan to add a wing to the left side of the home that will compliment the original Federal style of the early 1800s, while leaving much of the interior of the main home intact, save for a few necessary repairs and cosmetic updates.